Details

Published Date
Hits: 5161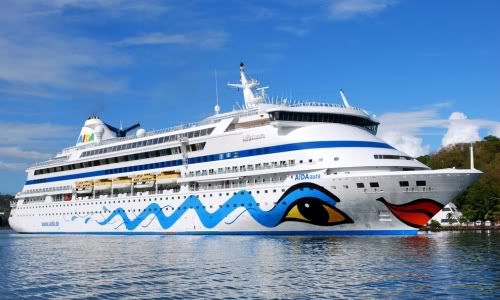 AIDAaura in Castries, St. Lucia on December 31, 2009. Photo: Dex Sularte
| | |
| --- | --- |
| Owner/Operator: | AIDA Cruises |
| Year built: | 2003 |
| Rebuilt: | - |
| Builder: | Aker MTW, Germany |
| Former names: |   |
| Gross Tonnage | 42.289 |
| Length: | 202.9 m (666.6 ft) |
| Beam: | 28.1 m (92.2 ft) |
| Passengers (normal): | 1.266 |
| Passengers (maximum): | 1,687 |
| Crew: | 426 |
| Service speed: | 19.4 knots |
| Sister Ships: | AIDAvita, AIDAcara |
Source: Ship Parade
Overview
This is a "Club Ship" (sister to Aidavita and larger sister to Aidacara) and offers a sea-going version of Germany's popular Robinson Clubs. The ship has a contemporary profile, is well proportioned, and has a swept-back funnel and wedge-shaped stern. Its bow features the red lips, as well as the blue eyes of Aida (from Verdi's opera, written to commemorate the opening of the Suez Canal in 1871). Aida Cruises is part of P & O Princess Cruises, which is part of the gian Carnival Corporation.
There is a good amount of open deck and sunbathing space, including some rather nice, quiet space above the navigation bridge. There is an egg-shaped swimming pool set in a "beach-like" environment with splash and play areas (larger and better than aboard Aidacara).
This fun ship includes a whole army of "animateurs" (like the gentils ordinaries of Club Med, but better) who lead a variety of activities by day (they also act as escorts for shore excursions), and as entertainers by night alongside the professional entertainers. They (along with other staff) also interact with passengers throughout the ship and can drink with them at the bars - something not permitted aboard most cruise ships, although this does tend to make them very casual and at times, sloppy.
The principal rooms include the Aida Bar, the main (but unofficial) social gathering place, Hemingway Lounge (a cognac/cigar lounge), Anytime Lounge/Bar (the ships disco late night spot with wood-edged bar, granite dance floor, pounding music and five video games table set inside a "tunnel" that acts as an entrance. There are two "internet-connect" locations.
This is certainly a family-friendly ship. There is a diverse selection of children's and youth programs in a holiday camp atmosphere. Children can also make their own menus for the week (together with the chef), and visit the galley to make cookies and other items - a novel idea that more ships could adopt. This is a young, vibrant and fun ship with plenty of passenger participation.
Suitable For: Aidaaura is best suited to young German-speaking couples, single travelers and families with children seeking good value for money in a fun environment for a first cruise. The dress code is simple: "very casual" (no dinner jackets or ties) at all times.
Accommodation
The dcor is bright, splashy, youthful and slightly whimsical. All cabins are accented with multi-patterned fabrics, wood-trimmed cabinetry (with nice rounded edges) and rattan furniture. The twin beds have duvets and a colorful fabric canopy from headboard to ceiling. Windows have full pull-down blackout blinds. All cabin bathrooms are compact but well designed, feature showers and wall-mounted soap/shampoo dispensers. Cotton bathrobes are provided. Although the bathrooms do not have hair dryers, one is located in the vanity unit in the cabin. Two large suit are located at the front of the ship, each with a private balcony, offer much more space, better quality furniture and furnishings, larger lounge area and larger bathroom with a bathtub.
Cuisine/Dining
There are two large self-serve buffet restaurants: "Calypso" and "Market", wide a wide range of food available almost 24 hours a day. There is an a la carte option, the "Maritime Restaurant" with waiter and sommelier service. Aft of the funnel, the "Calypso Terraces" provide a casual dining alternative, complete with a large bar and seating outdoors as well as seating under a sailcloth canopied cover. There is always a fine selection of breads, cheeses, cold cuts, fruits and make-your-own teas (with a choice of more than 30 types of loose-leaf regular and herbal teas) and coffee.
The "Maritime Restaurant" is open for dinner only and has a set of five to six course menu (plus daily specials). There is no extra charge except for special a la carte menu items (such as sevruga, caviar, smoked salmon, chateaubriand, rib-eye steak) and for wines.
Entertainment
The Theater, the main venue for all shows and most cabaret is two decks high and has a raise stage and amphitheater-style bench seating on both main and balcony levels. There is a live band in the Aida Bar and an entertaining pianist in the Night Fly Bar.
Spa/Fitness
An excellent wellness center, Body and Soul is located on forward Deck 11. It contains two saunas (one dry and one wet), massage and other treatment rooms and a large lounging area. Forward and outside the wellness center is an FKK (FreiKoerperKultur) nude sunbathing deck on two levels. A beauty and hair salon is located just behind the balcony level of the showlounge. Types of massage and body pampering treatments include Swedish massage, Shiatsu massage and hot stone massage.
"Hit Bikes"(mountain bikes with tough front and rear suspension units) are provided for conducted biking excursions in each port of call., the concession of Austrian downhill champion skier Erwin Resch. There is a volleyball/basketball court and golf putting course.
Extracted from the Berlitz Complete Guide to Cruising & Cruise Ships 2010 http://www.berlitzpublishing.com/